Why Choose Berman Notary?
I am licensed, insured and bonded.
I am also available evenings and weekends.
I provide a quick turnaround time on all loan packages.
I am equipped to receive large files, e-docs, and faxes 24-7.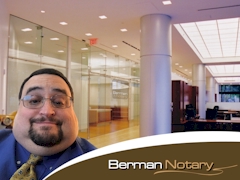 As your Notary:
I provide courteous, prompt and professional service for attorneys and law offices, banks, commercial and residential lenders, escrow companies, local businesses without a notary on staff, mortgage brokers, realtors, senior living facilities, hospitals, nursing homes, and the general public.
Convenient appointments can be scheduled and last minute calls are always welcome.